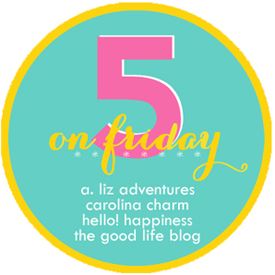 1. First off I want to take some time to bring some attention to a very rare congenital disease which a darling little boy Teddy is afflicted with. Menkes Disease affects copper levels in the body in a detrimental way. Copper builds up in the GI tract leaving the rest of the body deficient and causing severe symptoms. You can read more about his family's story on his
Caring Bridge
. Please also keep this family in your prayers as they face this diagnosis and continue to care for little Teddy.
2. I adore this nautical scarf from Modcloth. It's perfect for an early Spring boat day!
3. I'm still debating over
these
camera straps. I just can't make the decision yet. Any suggestions?
4. I stopped by the bareMinerals store last week and fell back in love with some of their makeup. I bought the --- blush, and Celestine, Cultured Pearl, and Passionate Plum eyeshadows. The shadows definitely fill the hole that UrbanDecay left in the new Naked3 palette. Some of their pinks are a little less shimmer and a lot more glitter and tend to look a little more juvenile.
5. Saturday, after my scrub class, we're heading to Charleston! This city has had a place in my heart for so long, but 3 years and 3 days ago my college sweetheart planned the most special proposal during our visit to SEWE. I'm so excited to be returning even if it is just for one night.
Happy Valentine's Day!